How to learn Norwegian with NorwegianABC?
Learning Norwegian with us is going to be easy and fun. You just need to relax and learn with pleasure. By listening and repeating the materials slowly and peacefully, you will remember Norwegian phrases with ease, so you won't even need to learn them by heart.
You can listen to Norwegian courses drinking coffee or tea, during lunch breaks, driving a car, comfortably sitting at home, while riding a bicycle outside or doing sports in a gym.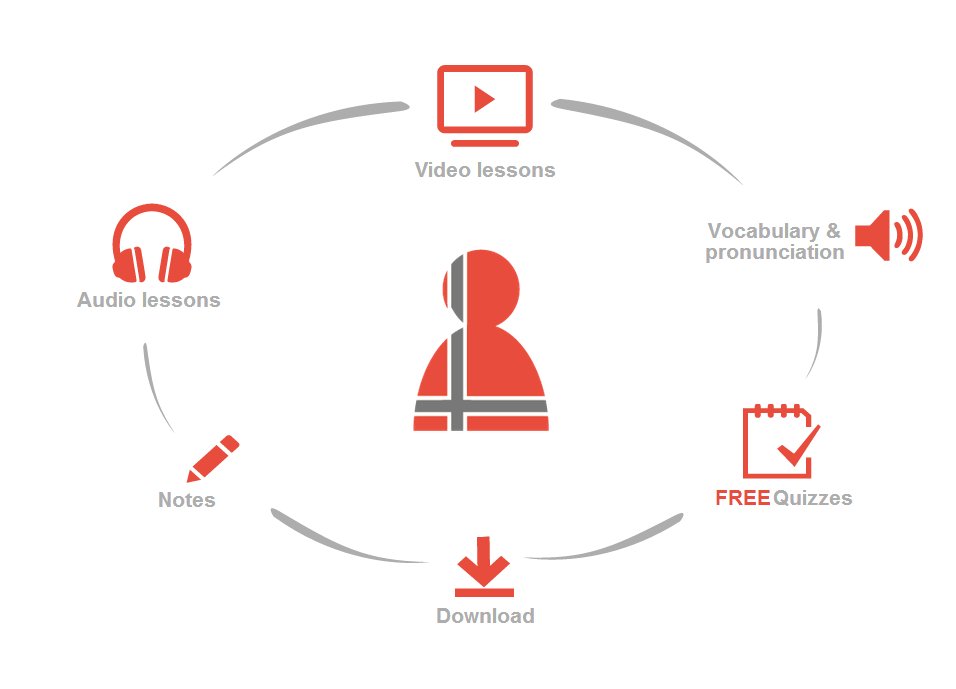 Here are the major parts Norwegian lessons. NorwegianABC is based on unique methodology, which is tested and definitely working. Give it a try!
Audio lessons
Audio lessons are one of the most important parts in your learning process. You can listen online or download and learn anytime, anywhere.
Video lessons
While matching video you'll acquire new words and phrases much quicker. Also pronunciation and writing skills will improve automatically.
Vocabulary & pronunciation
Vocabulary and pronunciation are placed in a separate section. Listen and repeat! This is the way to remember words and to pronounce them correctly.
Quizzes
Test your knowledge, learn new words and pronunciation by writing and guessing them.
Downloads
Download MP3 and learn anytime, anywhere.
Notes
Those who like to read will find all the material in the notes. New words, phrases and grammar rules are picked out.
With NorwegianABC you can easily achieve A2 level "Halfway"

5 Norwegian skills, which are guaranteed to you after finishing the beginner level course:
Understanding

sentences and common sayings related to main aspects of life (for instance – people, family, shopping, geography, work and etc.).

Communication

in daily situations about well-known things, when you need to ask for information or give it to someone.

Reading

short simple texts. You will be able to find information in daily texts: advertisements, flyers, menus, schedules; also being familiar with simple personal letters.

Telling

something about your education, environment, essential needs and leisure activities.

Writing

short, simple remarks or messages. You will be able to write a simple personal letter: for instance, saying thanks to someone, a few words on your holidays, and so on.
Language proficiency grading is based on widely accepted European standard.
Try intro lesson - it`s FREE!